In talks with Jad Bou Karam: "Making people laugh during tough times is challenging"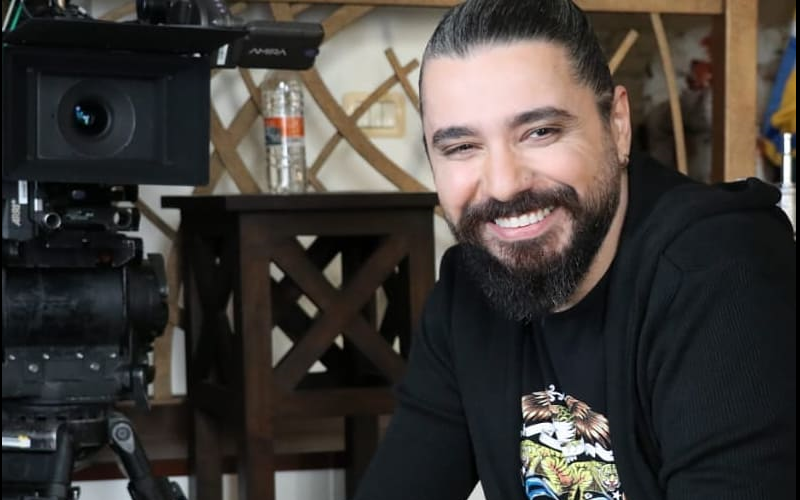 Lebanese actor and comedian Jad Bou Karam will really have you going "Oh My JAD" at his jokes. He is known for his effortless humor and endless positivity. Over the years, he has excelled in both acting and writing content in a creative manner, putting his many talents on display. "Putting a smile on viewers' faces is my primary goal," Bou Karam told Omneeyat recently. 

As part of the Omneeyat Show, we spoke with Bou Karam to get to know more about his humorous side. 
Has the quarantine period made you appreciate family more?

I have always prioritized my family, long before quarantine. For me, starting a family was the best decision I ever made. My wife works at the hospital, so I've always dedicated time to cooking and raising the kids even before the COVID-19 pandemic. This made me realize the passion I have for cooking and began investing time into finding new recipes and cooking delicious dishes. 

How important is wit in your career as a comedian? 

I think speed and wit are two characteristics that cannot be taught. I have always embraced these two feats in myself since I was a child. I used to always scrutinize the conversations around me and would ponder over how I could be smarter in the way I present my thoughts to make people laugh. I would often use this approach to hide my shy side during my school years. 

Today, I can create jokes in just a few seconds; it's kind of second nature to me since I've been doing it since I was a little child.

In your beginnings, you were shy and avoided the camera as much as possible. How did that change?

I was actually a very shy person and hated being in front of the camera. That was until comedian Anthony Hamwi insisted I appear on stage with him. I decided to challenge my fear and go for it. It all worked out in the end.

Have any of your kids exhibited an interest in comedy?

Yes, my son always attempts to make jokes whenever possible. I encourage him and urge him to invest more in developing those skills.

What are the challenges facing the Lebanese comedy scene today?

The most challenging thing is making people laugh amid such difficult and sad circumstances. In the world of comedy, I think it is important to always accurately depict certain topics or situations. To do so, one must always be in the loop on what's happening around them. I call this "social culture," and it is what drives my ideas and leads my brainstorming sessions. 

Did you prefer comedic roles or tragic ones?

Viewers are used to seeing me take on comedy roles, but I love playing tragic roles as well and I think I am good at both. 

What has the program "Lahon W Bas" given to you?

Being able to be part of the program really gave me a confidence boost, especially after receiving positive feedback from the public. It is worth noting that Hisham Haddad, who is one of the most notable TV presenters in Lebanon, encouraged and supported me all throughout. 

On social media: Launching an Instagram filter, TikTok and negative comments 

I am very happy I got the chance to launch my own Instagram filter and was over the moon to see the positive reactions and virality of it. As for TikTok, my family is super supportive in that regard and always encourages me to shoot more videos with them. I do not ever post videos of my family without their consent. 

My son also has a TikTok page; he wasn't super happy with the number of views and likes he would initially get. But our role as parents is to send our kids a message that their talent is not defined by the number of likes or views they garner on social media. I also advise him on how to approach negative comments and sometimes delete comments I believe shouldn't be there.

What is something you aspire to have?

I aspire to have my own private program and to take part in more acting roles. I would also love to have an influential role in people's lives, particularly through social media, so I am also working towards that.

What would you like to tell your followers on Omneeyat? 

I am very happy to be on Omneeyat as it is a fresh and exciting idea. When we were young, we would have loved to have the chance to interact with our favorite stars. Today, fans have that option with this amazing platform.

Book a request from
Jad Bou Karam
!